Print
Richea pandanifolia after which the club is named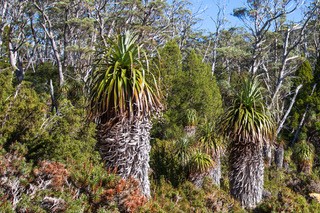 Welcome to the Pandani Bushwalking Club
Join Pandani and enjoy Tasmania's natural wonders
The Pandani Bushwalking Club organises walks and other activities in the southern Tasmania region and further afield on weekends and weekdays all year round.
The emphasis is on bushwalking but there are also kayaking and photographic events held at various times of the year. Many club members are keen bush photographers and an annual photographic competition and exhibition is held each year.
Notices
Notices
A modified version of the latest activity program is available here. For privacy and security reasons, the names and telephone numbers of most leaders have been removed. To become a member, you can either simply join the Club immediately, or go on two walks as a visitor to get a 'feel' for the club first.
Pandani Website Update
All current Pandani Members now have a profile on our new website. Those that didn't create their own profile have now been put into the website and you will now need to logon to the website and add to and/or amend your personal details. You have all been given a password and you will need to change this ASAP. You have been sent your temporary password by email or text. If you don't understand what to do to change your password or amend your profile details or need some other assistance please ring Frank van Ravels on 0419 000 727.
Staying COVID Safe when Participating in Club Activities
While we have slowly returned to bushwalking as usual it is important that club members, prospective members, and guests continue to follow COVID-safe behaviours:
Stay at least 1.5 metres away from others, where practical this limit still applies to our activities.
Use alcohol-based sanitiser when you are out walking (wash your hands regularly with soap and warm water when you can).
If you are unwell stay at home and always cover sneezes and coughs.
Get a COVID-19 test for flu-like and cold symptoms.
Follow the current advice on gatherings, travel, and business restrictions.
For up to date information and advice visit https://www.coronavirus.tas.gov.au
Carpooling is not recommended (exceptions for family), but this is an individual choice, not a requirement.
National parks and reserves are mostly open to the public, this includes campgrounds and visitor centres. Visit https://www.parks.tas.gov.au for details.
• • • Flash walks - Continue to be advertised on the Facebook page.

Pandani Bushwalking Club Committee